Here you will find my public appearances dates along with your photos or mine.
October 2009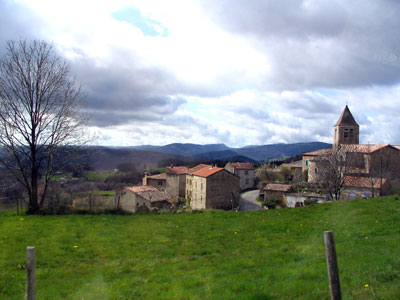 Festival International d'Art de Gluiras from Thursday October 29th till Sunday November 1rst 2009
Gluiras is in Ardèche, South-East France
September 2009
September 22nd, construction and launch of the stone circle in Stanstead
Original idea from Philippe Desormeaux
Realisation: Kim Prangley
Production: Gabriel Safdie and Eva Juul
This site inspired by the 5000 years' Stonehenge in England is beautiful day or night!
If you stand right in the North-South axe, between the north and south stone, you will see by clear night, right over the 30 tons north stone, the polar star over it.  Under this stone, was buried mysthic objects as well as Hélène Cardinal's poem/song "Coeur de pierre"
Stanstead stone circle, visit day and night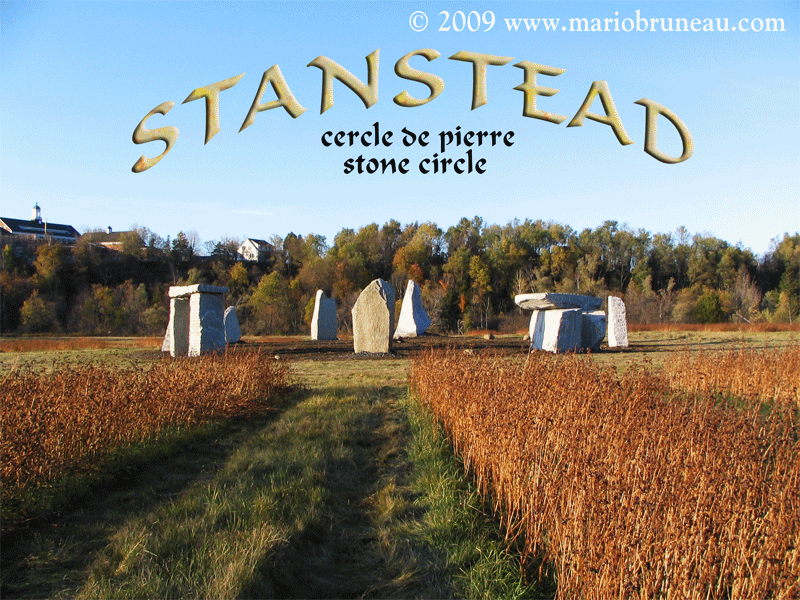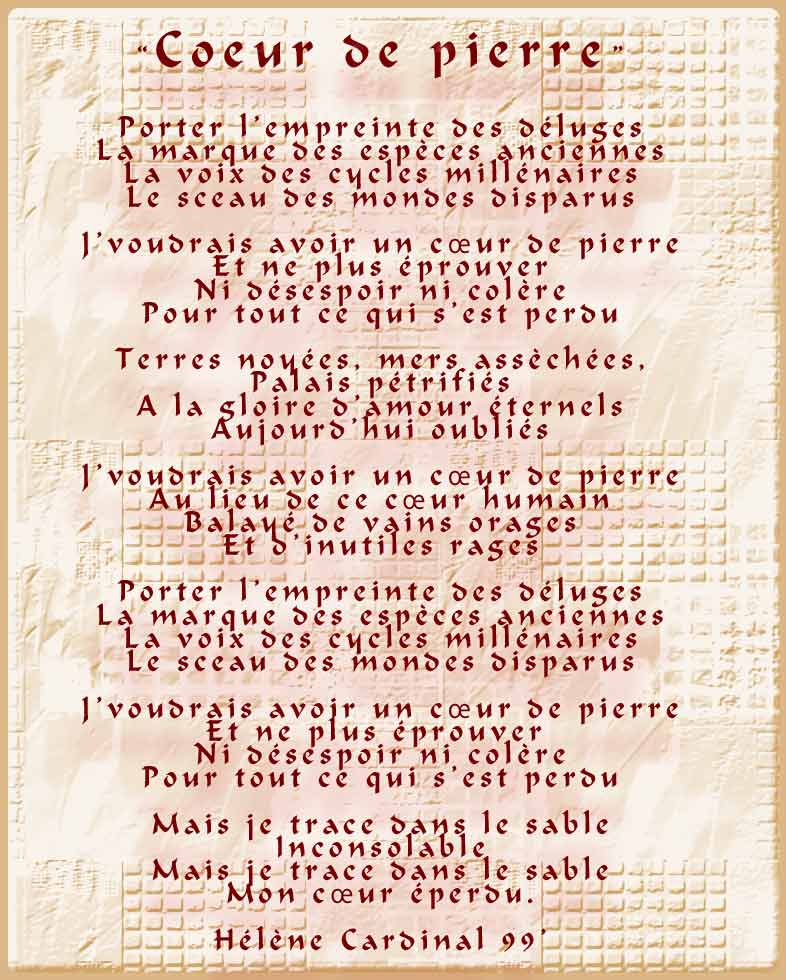 | | |
| --- | --- |
| | Septembre 6th |
05th Septembre,

Official opening of the Henry Seth Taylor Place
in Stanstead
August 2009

Auberge-Café-Spectacle   4500 chemin Capelton (108)   North Hatley, Estrie, Québec
Saturday August the 08th at 8:30PM.  Come and meet us at this cool little place in North Hatley.
Testimonial:
Le 09 août 2009
Bonjour M. Bruneau et Mme Cardinal,
D'autres l'ont dit ou le diront, les plus grands spectacles sont souvent dans les petites salles.
Hier, à la Caravane, nous avons passé une agréable soirée en votre compagnie et je vous remercie de votre simplicité, générosité et surtout, de nous avoir permis d'apprécier votre talent remarquable.
L'harmonie parfaite entre la voix cristalline et puissante de Mme Cardinal et la virtuosité de l'excellent accordéoniste que vous êtes, furent la recette infaillible de cette belle soirée.
Les compositions de Mme Cardinal m'ont particulièrement émerveillé par leur profondeur et leur vérité.
Merci encore !
Michel Morissette
August 1rst and 2nd 2009


Succès sans précédent pour le Week-end des saveurs à Compton
Augmentation de 18 % du nombre de visiteurs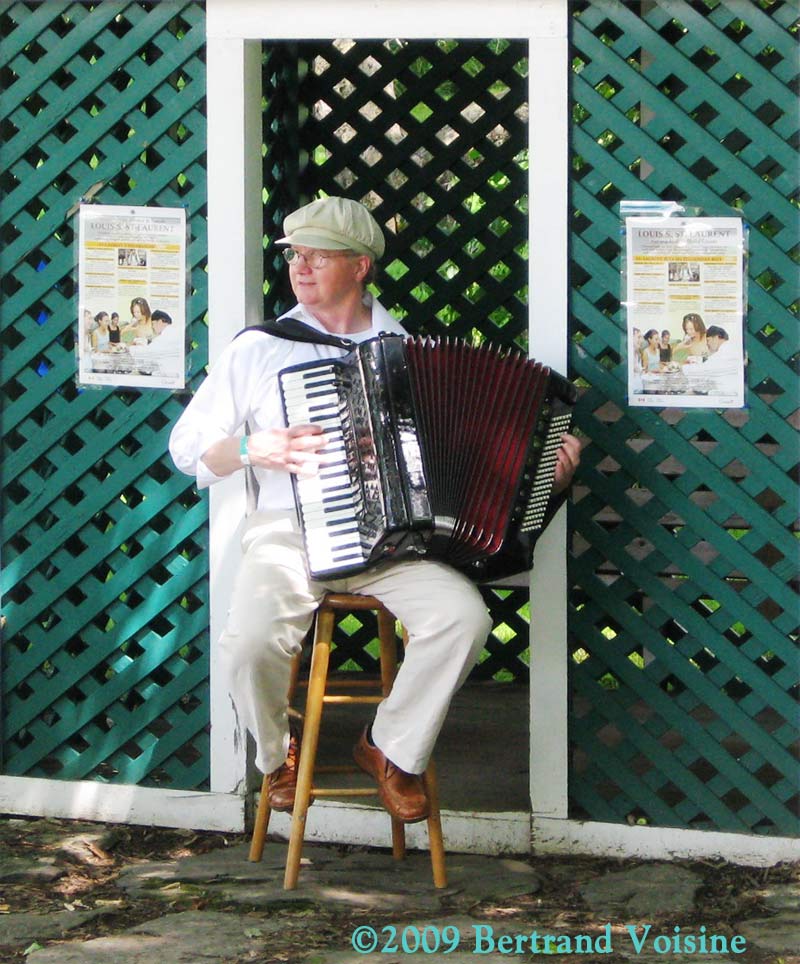 June 2009
"STEPPING OVER THE LINE"

A Mark Violette show with Ruth Ann Fletcher.

It was a delight for Hélène Cardinal and I to participate at this Benefit for the Haskell Opera House in Stanstead.  I had the opportunity to play for the first time in the United States!  This is the place where the Canadian USA border crosses the Hall.  The stage being in Canada, I had to step down to the crowd of spectators to cross the Frontier and play on the USA side.

An exceptional performance was given by Mark Violette at the piano and the comedian/singer Ruth Ann Fletcher.  During the show, Mark Violette had his hair completely cut off while at the grand finale, for the last tune, I came on stage with my hair completely undone.
April 2009
Easter Sunday Special

Sunday April the 12ve from 10AM to 3PM with live accordion entertainment by:

« just like being at a sugar shack »
Come and tast the sugar shack meal revisited by your hosts Daniel Charbonneau and Mélanie Alain.  Downtown sugar shack…
Sunday April 12ve from 10AM to 3PM. $20/pers. + tx. and service. (819) 868-8808
March 2009
Binerie chez Auguste
Dimanche 29 mars de 9h00 à 15h00
Danny St-Pierre et Anik Beaudoin, propriétaires du Restaurant Auguste et Sébastien Jacques de la Boucherie Clément Jacques vous invitent à une grande fête au profit de La Tablée des Chefs afin de supporter la formation culinaire des jeunes du Centre Jeunesse de l'Estrie.
Seulement 15$ par personne.
Billets disponibles chez Auguste, à la Boucherie Clément Jacques et à La Tablée des Chefs.
82 Wellington Nord, Sherbrooke Québec 819 565-9559 ou info@auguste-restaurant.com
February 2009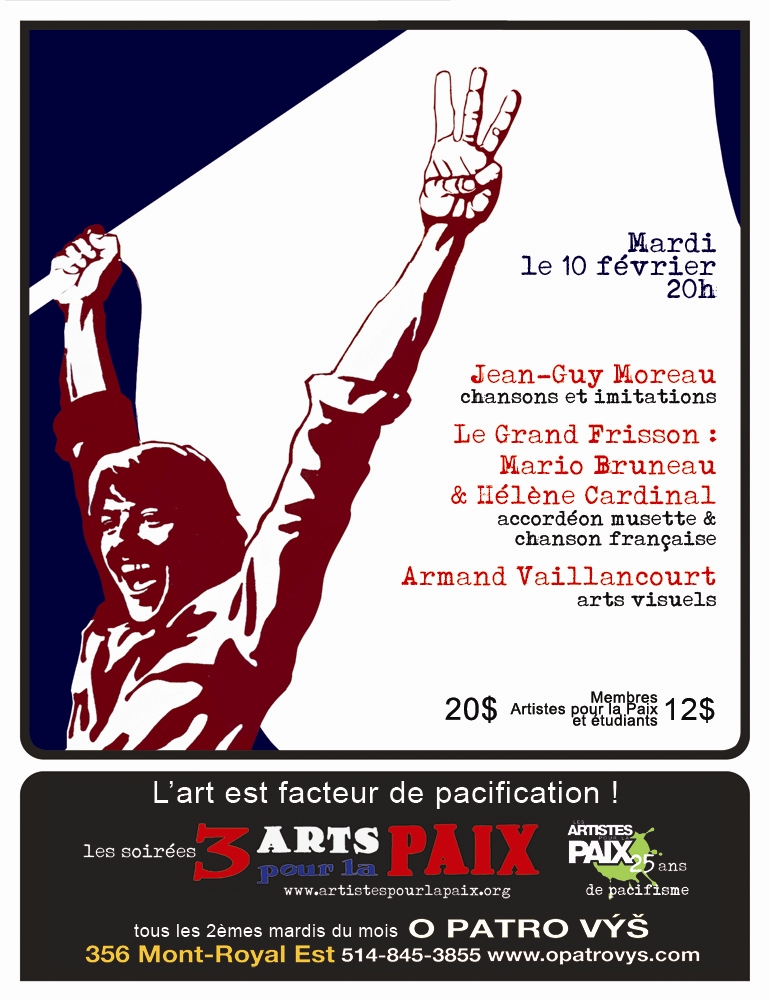 October 2008
| | |
| --- | --- |
| A unique event will take place on October the 2nd to 5th 2008, called Art and the Automobile. It is a weekend where art, photography and automobile design will be the foci amidst the beauty of the Eastern Townships and a sizable collection of collector automobiles, including a number of Deutschman designs. Paul Deutschman is to be an Honoree at the event. | |
Jully 2008
Sunday Jully the 27th
Sunday concerts at l'Église St-François-Xavier in Bromont.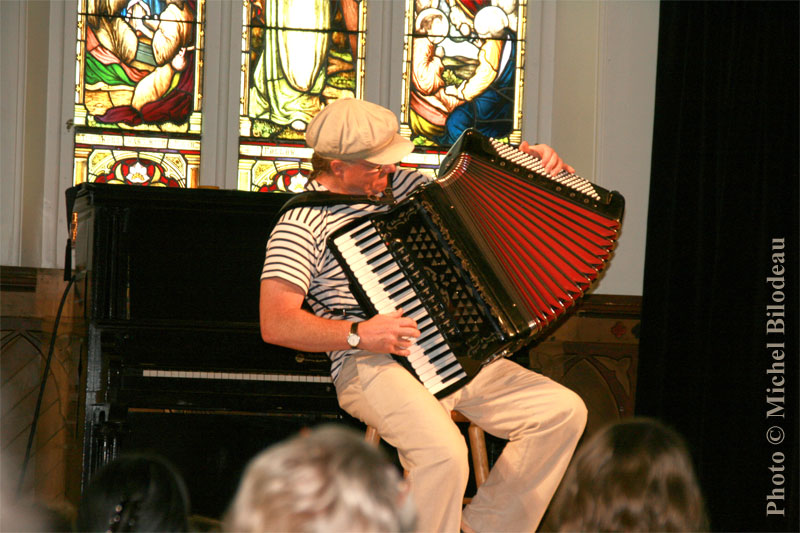 | | |
| --- | --- |
| | BASTILLE Special  12th Jully 2008 |

May 2008

Played accordion at LA FÊTE DU CHOCOLAT in Bromont, Quebec Saturday May the 17th at 11AM, 1PM and 3PM.
September 2007

On the 2nd, presented my Accordion MultiMedia Conference
at the 19th Carrefour Mondial de l'Accordéon at Montmagny.
From August the 30th to September the 3rd 2007
July 2007
| | |
| --- | --- |
| Every Wednesdays, Thursdays and Fridays from 12:30PM to 2PM for July and August.  At only ten minutes drive from LE GRAND FRISSON on the same road (247).   You have time to pass by Bleu Lavande before or after the Guinguette of LE GRAND FRISSON on Sundays!  What a day! | |
From May to October :
Every Sunday from 1PM till 4PM there is a typical French Parisian guinguette with songs of the musette accordion repertoire and Edith Piaf.  With singer Hélène Cardinal accompanied by Mario Bruneau on the accordion.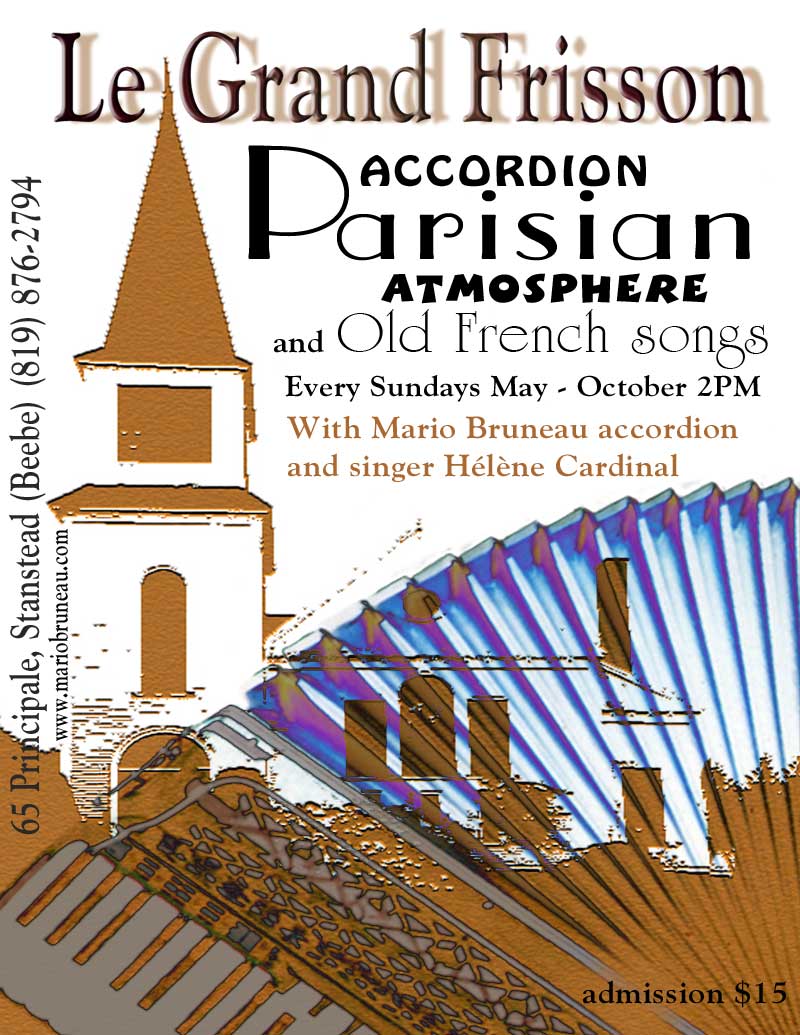 14th July 2007 ESPACE SUTTON
After a big success last year, the 14th July's Bal Musette will come back.  At the ski center of mount Sutton.  (450) 538-2771
May 2007
Mother's day, at Le Cep D'Argent's terrace.
Sunday May the 13th from 11AM til 3PM.
January 2007
| | |
| --- | --- |
| | I was at Wendl&Lung in Vienna, Austria for a master training in piano preparation and voicing.  What a pleasure to be with people who share the same passion for pianos.  Very instructive!  Big thanks to:  Antoni Maleszka, Bogdan Kapsarev, Sibin Zlatkovic, Orestis Vavitsas et Peter Veletzky.  Please visit my "Piano Sale" page |
December 2006
December the 24th and 31st 2006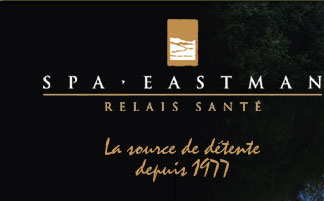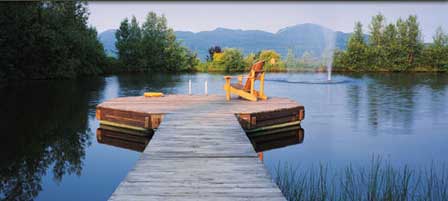 October 2006
LA MAISON TRESLER
Friday October the 27th 2006 7:30PM"Musique et huîtres"
The first oysters party from la Maison Trestler.With Mario Bruneau at the musette accordion.85, CHEMIN DE LA COMMUNE, VAUDREUIL-DORION
(QC) Canada
J7V 2C3
phone: (450) 455-6290
September 2006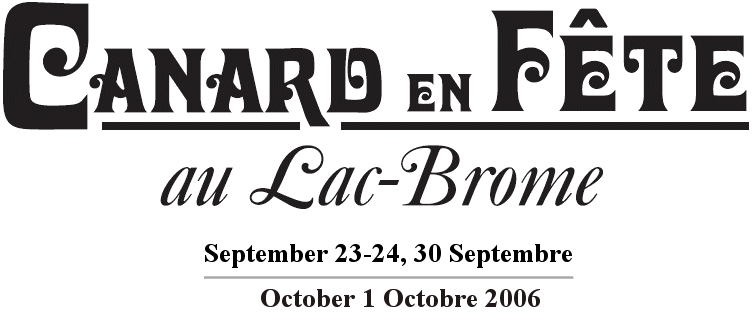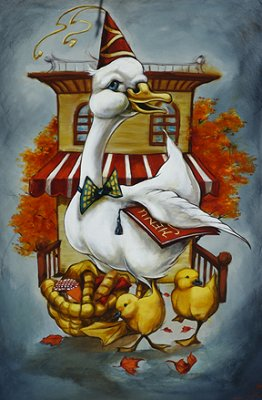 Poster by artist  Marie-Andrée Leblond
| | | |
| --- | --- | --- |
| | Fête des vendanges Magog-OrfordPointe Merry in Magog – Exits 115 or 118 of the route 10Hélène Cardinal and Mario BruneauEveryday on the terrace of the SAQ Bistro, Mario Bruneau's joyfull accordion and the warm voice of Hélène Cardinal creates a "bal musette" ambiance. | |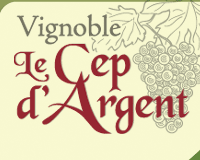 Saturdays and Sundays September the 16 and 17 and October the 7-8 2006 from 11:00AM till 3:00PM
August 2006


For the SDC of Magog, at the parc des Braves' carrousel in Downtown Magog August the 11th from 6:00PM till 10:30PM.
With singer Hélène Cardinal singing old French repertoire in the style of Edith Piaf.
It will be like a Tour de France where some of the greatest musette accordion stars performed.  By the way, do you know the link between the bicycle and the accordion?  They where both invented early 19th century.
Jully 2006
Bal musette & Live Paintings
An un preceded success!Last Friday July the 14th 2006, Espace Sutton presented a Bal Musette that included two live Paintings.  This dancing night gathered 320 people at the main Chalet of the ski station Mont Sutton, the biggest crowd ever for an indoor event in Sutton!The president of Espace Sutton, Jean Marsolais as said to be very pleased by the results of the event.  "This year, we decided to present our Live Paintings event in a Bal Musette set up and the date chosen of the 14th of July was obvious since it corresponds to France's national day and that every since the French revolution, they gather for a gigantic Bal Musette.  Our event was so popular that we had to refuse quite a lot of people, the hall wasn't big enough to accept everybody!  It was a very nice evening with the joyful music of the accordionist Mario Bruneau who gave the opportunity to discover two wonderful paintings, one by Cézanne and the other by Toulouse-Lautrec" did he explained.  The comedian Robert Toupin (left picture) gave an humorous presentation of the paintings with text written by Richard Leclerc.  "We thanks every one who where present and also thanks to our partners and the volounteers who participated at the success of this event.  We will do it again next year" the president Jean Marsolais added.
May 2006
RALLY DES GÎTES at the Mont Orford Golf club

May the 06th 2006 at 7:00PM
.
March 2006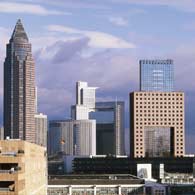 It is following a recent accordion makers tour i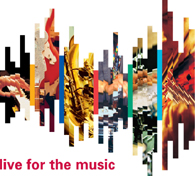 n France and Italy in November 2005 that M. Giampaolo Bompezzo from the Brandoni-Bompezzo accordion maker, (the peoples who built my own accordion) hired me to represent them in their kiosk at the Frankfurt MusikMesse in Germany.  So from March the 27th till April the 2nd 2006 I spent a wonderful week playing the Brandoni accordions while visiting some other exhibitors.  I had big success with my AcidJazz originals.   From those compositions, a CD called Accordéon NoW! will soon be available.  Here is an excerpt from the title  Reed My Lips.
At the Frankfurt MusikMesse, I also discovered the fabulous Viennese piano Wendl & Lung.  These pianos are really fantastic and at an affordable price too.
I took the opportunity to present my Accordion MultiMedia Conference to people passing by.
I tried some rather original German percussions instruments.  Schlagwerk Percussion.  Their congas (Cajongas) are completely made out of wood, even the skin is wood!  Take a look at a YouTube video showing me having fun.  These instruments sound so nice and effortless to play, you get to concentrate on your music rather than on the technique.  If you like to groove, the Schlagwerk percussion instruments are for you!
Here are some photos taken at the Brandoni-Bompezzo stand at Frankfurt's by Martin Troppmann and Manfred Grichnik (thank you)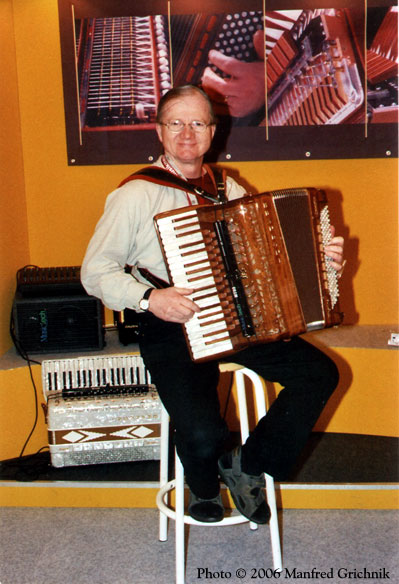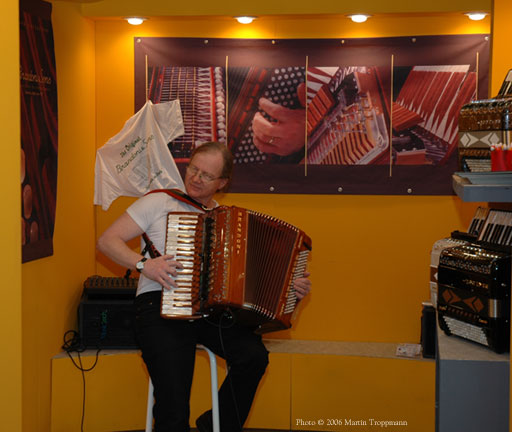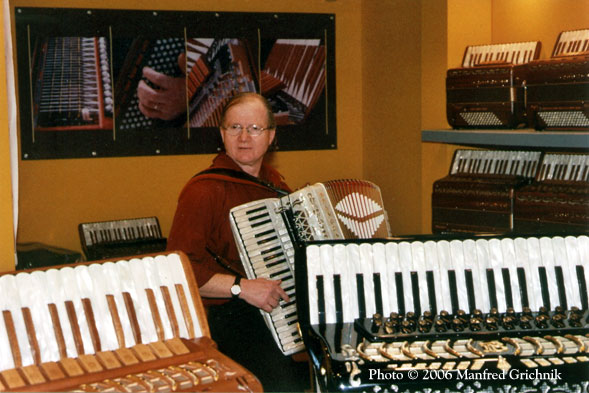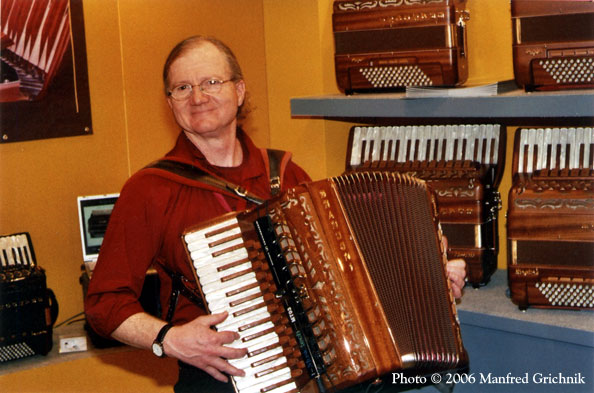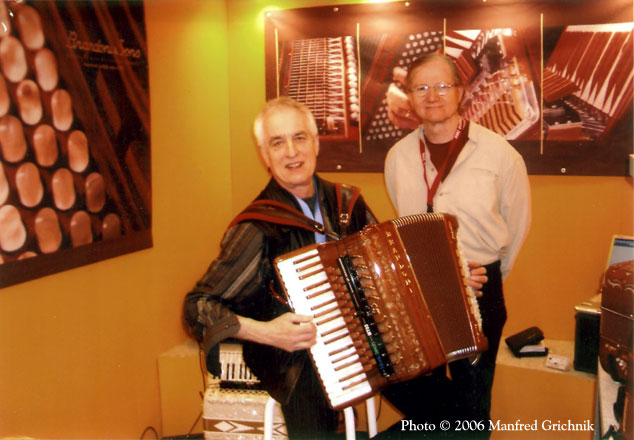 February 2006
At Les Jardins Champêtres de Magog :  14 February 2006, Valentine's night with signer Hélène Cardinal in duo
December 2005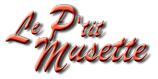 At Les Jardins Champêtres de Magog :   Lots of Christmas parties for December 2005 (also 2006), would be glad to meet you.
November 2005
For Rencontre Européenne de l'Accordéon in Chartres, France :
Saturday November the 26th 2005
Cabaret for the Mayer's téléthon in Chartres.
SEPTEMBER 2005
Pointe Merry à Magog – Sortie 115 ou 118 de la 10

Les 3 – 4 et 10 septembre 2005  de 13:00 à 18:00hres : formule Bistro sous le chapiteau avec Hélène Cardinal chantant Édith Piaf et autres chansons françaises.

Le dimanche 11 septembre 2005 de 13:00 à 18:00hres : je serai ambulant sur le site avec mon accordéon.

Venez fêter la générosité de la nature en dégustant un bon vin de chez-nous au son de l'accordéon musette.
7 photos taken at the Vendanges on Sunday septembre 11th 2005 by M. Pierre M Denault (thanks Pierre) :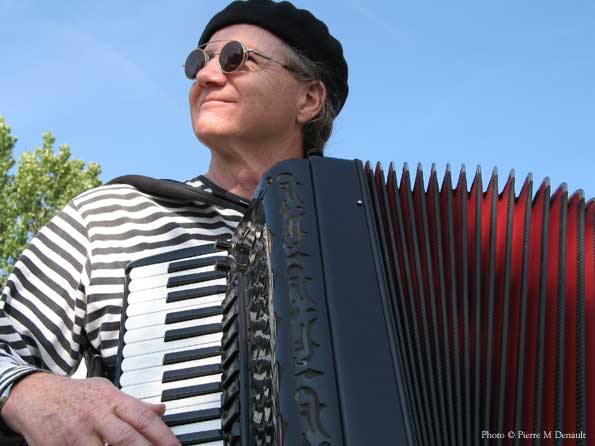 Musette Accordion at Le Cep D'Argent winery.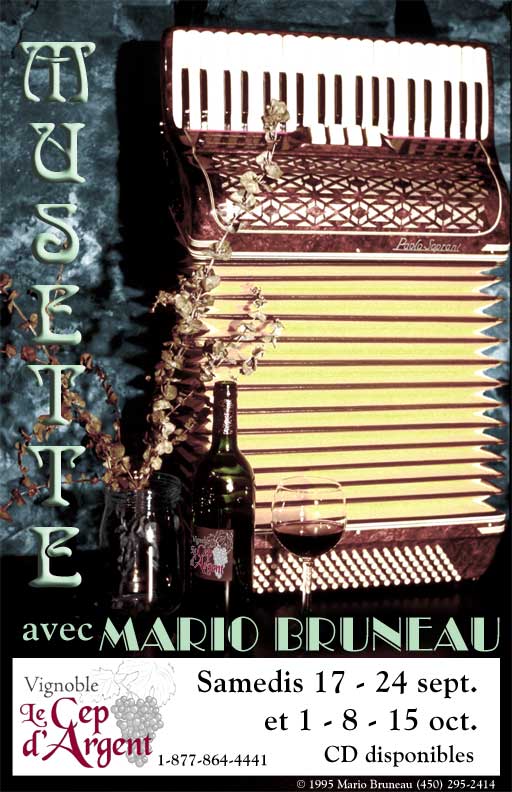 SUMMER 2005
Les Jardins Champêtres in Magog,  1575 chemin des Pères, Magog
Concert-dinners at 7:00PM as DUO with singer Hélène Cardinal  October 15th, February 14th 2005 (Valentine's day) and May the 14th 2006 for mother's day brunch.  Reservation mandatory.
ALSO AT THE LES BLANCS COTEAUX WINERY
Bal des Lampions Saturdays July 16-30th and August 13th 2005
Musette accordion on the grass.
Sundays 04-11-18-25 September and 02-09 October 2005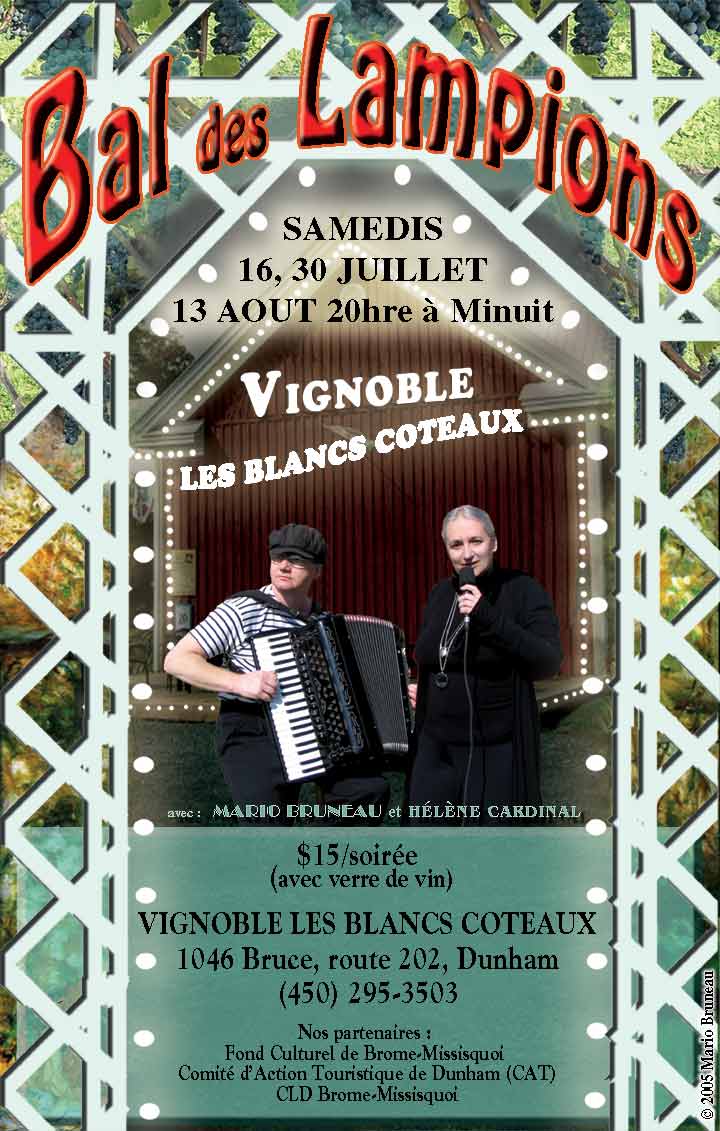 Photo from Gérard Rejskind (UHF Magazine) :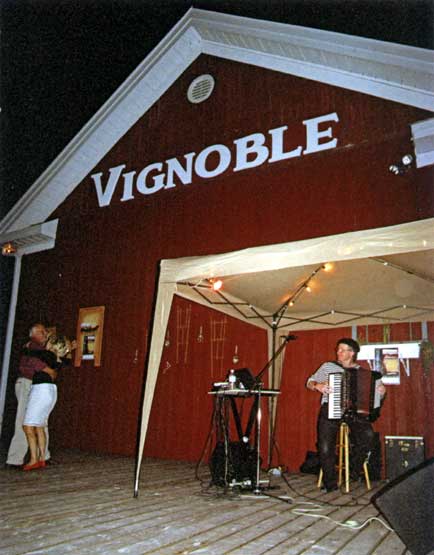 CHAPITEAU PHYSERGO, VERDUN August 5th and 19th 2005
2 photos from Yvon Bergeron: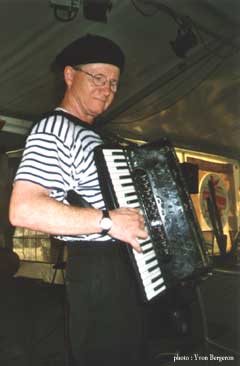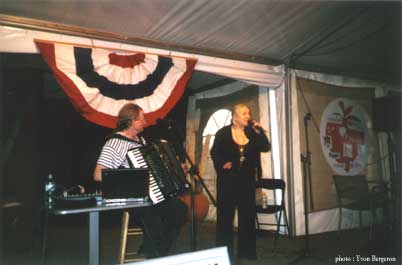 TABLEAUX VIVANTS DE ESPACE SUTTON
| | |
| --- | --- |
| | Du 1er au 9 juillet 2005    Mario Bruneau, accordéoniste d'expérience et de talent, a fait du bal musette sa spécialité et de l'accordéon sa passion.  Il nous fera découvrir avec bonheur l'infinie richesse de son instrument.  Impossible de rester insensible aux notes et aux chansons de son répertoire, évoquant toute la joie de la fête. |
www.mariobruneau.com
© Copyright – 1997 – All rights reserved